Drywall & Finishing Contractor
Northern Colorado's Most Dependable Finishing Specialists
Achieve The Perfect Finish Touch
A solid foundation is important for new development, but the finishing touches are just as important for the value and success of a new build. At Northern Exposure Drywall & Paint in Loveland, we help homeowners and property developers throughout the Northern Colorado area perfect their home renovations and new development projects with quality drywall and finishing services.
Though we've been in business for just a decade, our team boasts more than 30 years of industry experience, which our detail-oriented finishing specialists utilize to achieve flawless, beautiful finishes for both residential and commercial spaces. Our attention to detail and integrity in service is what's led us to earn a reputation as one of the most dependable drywall and finishing contractors in the Front Range, and it's what makes us your best choice for your next renovation or build project.
Connect with Northern Exposure Drywall & Paint today to get a free quote for your next project, and read on to learn more about the value that our drywall and finishing services can add to your property!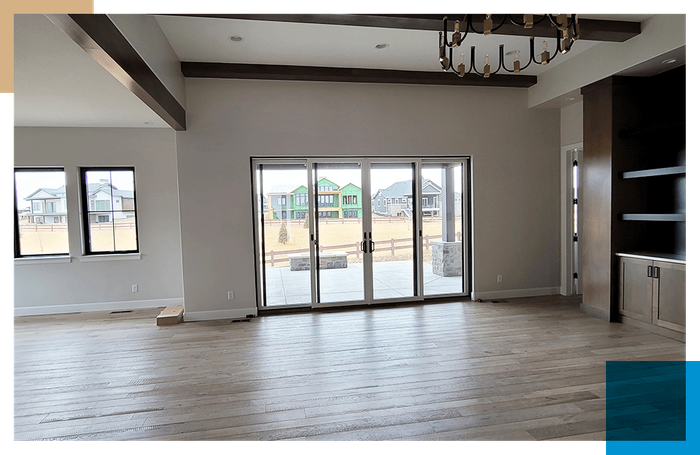 Northern Exposure Drywall & Paint Is The Top Finishing & Drywall Contractor In Northern Colorado:
Our team can leverage more than 30 years of experience in the industry to get your work completed efficiently and thoroughly

We have the equipment and expertise necessary to refinish basement, home, office, and commercial spaces

We're completely licensed, bonded, and insured

We've been locally owned and operated out of Loveland for more than a decade
Drywall & Finishing Services Guide
At Northern Exposure Drywall & Paint, we're proud of the durability and value that we add to structures with our drywall and finishing services. In this service guide, we'll dig a little deeper into the ways that drywall work, finishing, and texture spraying can benefit properties both new and under renovation, as well as what makes our team uniquely qualified to deliver stunning results you can count on to last. Read on to learn how to put the perfect finish touches on your home or building!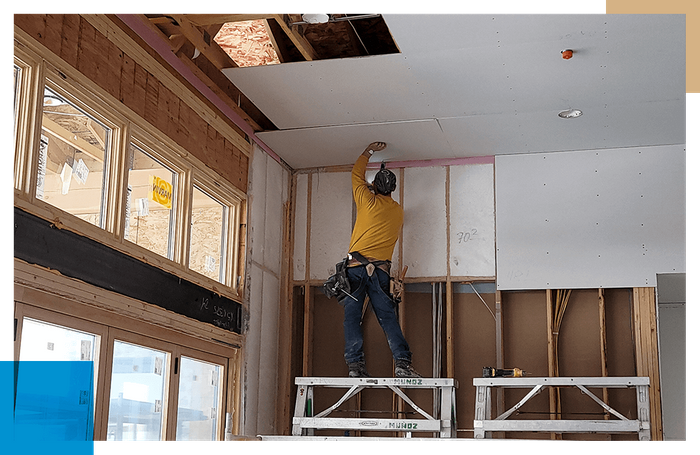 Drywall Installation
We're your go-to contractor when you need drywall installation for new builds or extensive remodeling work. Our team can procure drywall of a variety of thicknesses, as well as make recommendations as to which walls in your project could benefit from thicker drywall, depending on the specifics of your project. We'll install whatever drywall you choose quickly and seamlessly.
Regardless of your individual needs for your project, you can expect accountability and efficiency from our team from beginning to end.
What To Look For In A Drywall Installation Contractor
When searching for a drywall contractor, you want to seek out one with a track record of integrity in service and quality craftsmanship. Every drywall contractor on the market wants your business, so don't take their word for it on their quality of service. Seek out some of the following details:
How long has the drywall contractor been in business? How much experience does their team have?

Can the drywall contractor provide proof of licensing and insurance?

Does the drywall contractor have their own team, or do they subcontract the work out to another crew?

Can they offer any reviews or references?

Will they provide a written contract specifying all important details, such as the project timeline and the payment schedule?
How We Can Add Value To Your Build
You can count on nothing but professionalism and efficiency when you choose Northern Exposure Drywall & Paint. We're happy to provide any references and proof of insurance you'd like, and you'll always benefit from our team's 30 years of experience — we don't subcontract our clients' work. You'll enjoy more durable interior walls with a seamless finish when you choose our team!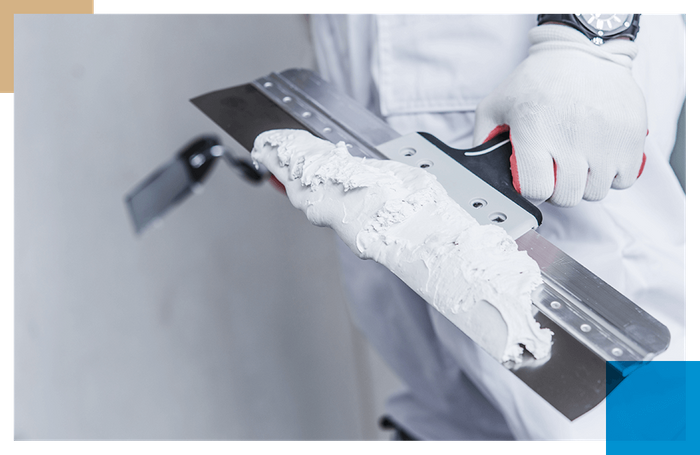 Drywall Hole Repair
Has the drywall in your home or building worn down with age? Has an on-site accident damaged your drywall and left a hole so large you could see through to your insulation? No need to worry, the Northern Exposure Drywall & Paint team is on it.
When you hire us for drywall repair, our team will quickly assess the damage and prepare an effective solution you can count on to last. Sometimes this is as simple as a small patch, while larger holes and more extensive drywall damage can require new sections of drywall be installed. No matter the extent of the damage, you can count on our team to quickly repair the issue and minimize the disruption to your work or your project timeline.
Why Solid, Finished Drywall Is Important
It can be tempting to simply paint over small nicks and dings in your drywall, but when you do so, you're taking a potentially very costly risk just to save a couple bucks in the short-term. You see, drywall is one of the secondary defenders of a home's or building's insulation after its roof and exterior walls. Even the smallest holes in your drywall can lead to air leakage, reducing the effectiveness of your HVAC system and raising your energy bills.
Drywall damage is also a safety issue. Small holes in your drywall open a path from any gaps in your roof's insulation directly indoors, leaving you at risk for moisture, mold, or even vermin to make their way into your home or building.
Drywall hole repair is far from just an aesthetic fix — it ensures the health and efficiency of your building!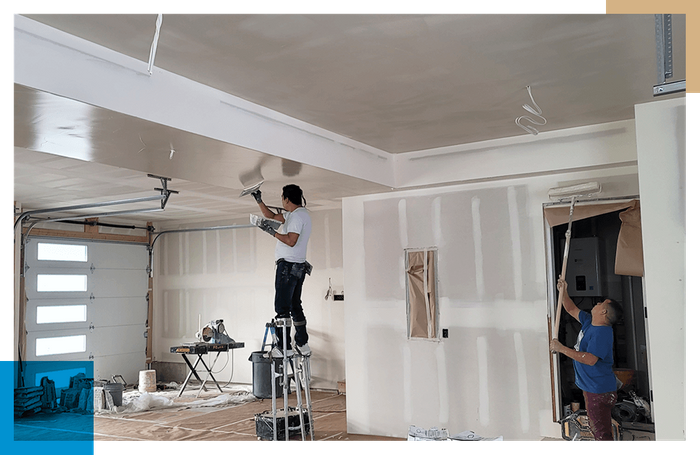 Finishing & Texture Spraying
Do you really want your drywall to last as long as possible without repair? Want to minimize the amount of wall cleaning and painting necessary to keep your interior looking great over the years? Texture spraying and finishing services are just the answer. Our team is equipped to handle a wide variety of spaces, from basement finishing to home, office, and commercial spaces.
Benefits Of Texture Spraying
Texture spraying and finishing may be separate from drywall installation services in name, but to any financially savvy homeowner or property developer, they are an essential part of the complete drywall installation process. Texture spraying adds a number of different benefits to the walls of a property, including:
Enhanced Durability — If you want your new development or home renovation to yield the highest possible value long-term, texture spraying is a must for your drywall. Texture sprays help protect the paint on your wall from flaking, sagging, or peeling, as well as improves its resistance to damage from heat, water, wind, and harsh sunlight. In essence, your new paint job will stay fresher for longer when you protect it with texture spraying!

Lower Maintenance Costs — Because of the durability that texture spraying adds to your drywall's paint job, it also lowers the amount of maintenance you can expect the wall to need over the long-term. Texture spraying ensures a high-quality finish for your wall that is all but certain to fade more slowly over time than the finish on an un-sprayed wall. Investing in texture spraying now ensures that you'll enjoy the vibrant appearance of a newly finished interior for years to come.

Greater Aesthetic Value — If you're seeking drywall or paint work as part of a home renovation project, texture spraying will be your best friend. Texture spray can cover over the small aesthetic imperfections on your drywall and ensure a seamless, flawless finish you can count on to last.
Why Choose Northern Exposure Drywall & Paint?
Now that you understand the full value that drywall and finishing services can add to your project, we'd like to discuss a few of the qualities that make us uniquely suited to be your go-to drywall contractor. There's a reason we're quickly gaining a reputation as one of the most dependable finishing specialists in Northern Colorado!

Locally Owned & Operated
Some large general contractors treat you more like a number in a ledger than an individual with unique needs for your renovation or build project. Worse, some of them sell you on their service, only to subcontract the work out to people you haven't had a chance to vet! Not at Northern Exposure Drywall & Paint.

Fully Licensed & Insured
Enjoy peace of mind when we work on your property. We're fully licensed, bonded, and insured for your (and our) protection, and we're happy to provide proof should you ask. That way, you won't have to worry about the prospect of a costly workplace accident by an uninsured contractor.

Experienced Drywall Service
Though we've only been in business since 2010, our drywall installation and finishing team brings a lot more experience than that to every project — three decades of experience in drywall, in fact! Hire Northern Exposure Drywall & paint if you'd like to enjoy the experienced touch and seamless finishes of longtime professionals.

One Contractor, Many Service Capabilities
New development projects can be complicated! Our team is here to simplify your work. In addition to the drywall and finishing services we've discussed, we're also proud to offer interior and exterior painting services. Why hire multiple contractors for different tasks when you can just hire one and simplify your ledger?
We've been serving people across the Front Range out of Loveland since 2010, and you can trust to receive nothing less than full accountability and attention to detail when you hire us for your project.
Get A Free Quote Today
Now that you know the value that our team can add to your new build or renovation with quality drywall and finishing services, we invite you to connect with us to get a free estimate. Call Northern Exposure Drywall & Paint to get started today!